We chose our wedding officiant a few months before we were engaged. Though it was a conversation we had for a long time throughout our relationship.
Growing up in the Evangelical Christian church and attending a Christian college, many of my friends chose their family pastor or a favorite professor.
Brendan and I went back and forth for awhile about who we should choose, but a few factors really narrowed it down for us to one person.
What is a Wedding Officiant?
First out of the gate: what and who is a wedding officiant? An officiant is the person who performs the wedding ceremony.
Though there are many different ceremony formats, an officiant has certain legal responsibilities that make it all official. These include: getting ordained, getting the bride and groom to exchange "I do's," and file the marriage license.
This person can be a member of a religious organization, a friend or family member, or someone whom you hire. The only requirement is that they have to be legally recognized by your state to validate a wedding ceremony.
Choosing Your Wedding Officiant
Not everyone will have their officiant chosen right off the bat, and that's totally okay – as long as you find someone to perform your ceremony legally!
For us, it became an easy choice – we knew we wanted a friend to perform the ceremony. Someone who we could trust and someone who would make it fun. That person, for us, is Sam!
I met Sam at one of my day jobs and we became fast friends, sharing bits of our lives with one another at the office. Weddings, and Brendan and I's relationship were often topic of conversation.
After awhile, it just seemed to make sense to ask Sam to officiate our wedding. He is someone we can trust with our ceremony, absolutely hilarious, great in front of people and had already gotten ordained for a friend!
I recently texted him to ask his advice on choosing an officiant and here's what he said: Find someone who both bride and groom agree on. Someone you trust and respect. Someone that will respect the wishes of the bride and groom for their day. And, most importantly, someone who shares your same faith (if you're having a religious ceremony).
Your Wedding Vision
Most of all, I want to remind you (and always will remind you) that this is your wedding! Wedding ceremonies are totally customizable and so having someone who you can easily communicate with and will respect your vision is key.
If you don't have someone in mind, you can also hire an outside wedding officiant – many people have their services up for hire! You can also ask your wedding venue or other wedding vendors if they have a preferred vendor to work with.
After all, we've seen it all and we have stories.
With that, it's important for you to communicate your vision clearly to your officiant. This way they can prepare and be ready for your wedding day!
Timing and Preparation
It's no small deal to ask someone to perform your wedding ceremony.
Here are some of the things y'all should talk about with plenty of time before your wedding day!:
What you personally like and dislike about wedding ceremonies
Your personal relationship story
Any religious or ceremonial elements you'd like included
If you want any readings, songs or other performances during the ceremony
Whether you are writing your own vows, want traditional vows or both
Length of ceremony
Formal versus a more humorous ceremony
I don't like to use the word "never" but, please don't tell your officiant that you just want them to "surprise us." Let them ask you questions to customize your ceremony to you!
Empower your officiant by getting in a few specific details and a general outline. And, hey! Have them share said timeline with your photographer so we know what to expect and when to expect it.
In Conclusion
Finally, your wedding officiant is there to help celebrate you as well as bring you together as man and wife (queue obscure reference to the Princess Bride).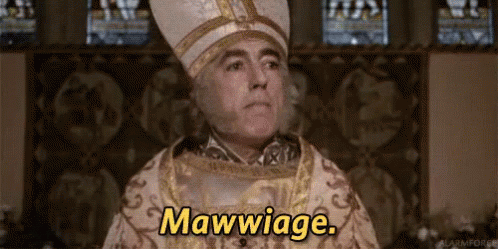 And side note, from a photographer's perspective, make sure you ask your officiant to step to the side for the first kiss (so you don't end up with awkward faces peeking through under your chins in photos)!
Wedding Planning 101
Keep up to date with all our Wedding Planning 101 series as I adventure down planning my own wedding!
Part 1 | We're All In This Together
Part 2 | The Wedding Planner
Part 3 | Wedding Venue Open House
Bonus | Our Proposal Story